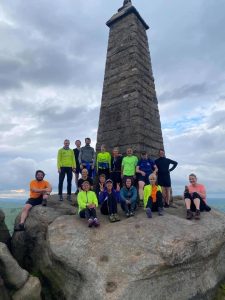 Club members meet on Tuesdays and Thursdays to run at differing paces and distances of 5 to 6-ish miles or 6 to 8-ish miles. During lighter evenings we participate in off-road runs and use road routes in the winter months. For information on routes, see the calendar below.
On Wednesdays we have a social run which is off road. Intervals take place one Tuesday of every month and there is a 5-10k improvers' programme on Thursdays to improve pace.
On Tuesdays & Thursdays, we meet at 7pm in Aireville Park at the picnic bench by the main path near the parkrun finish point (see map below). The monthly interval training session starts at 7pm from outside the entrance to Craven Leisure centre.
The Wednesday 'pub runs' start at a different location each week at 6:45pm. Please ask for the start place if you'd like to join us.
Email skiptonacseniors@gmail.com for further information about Senior running.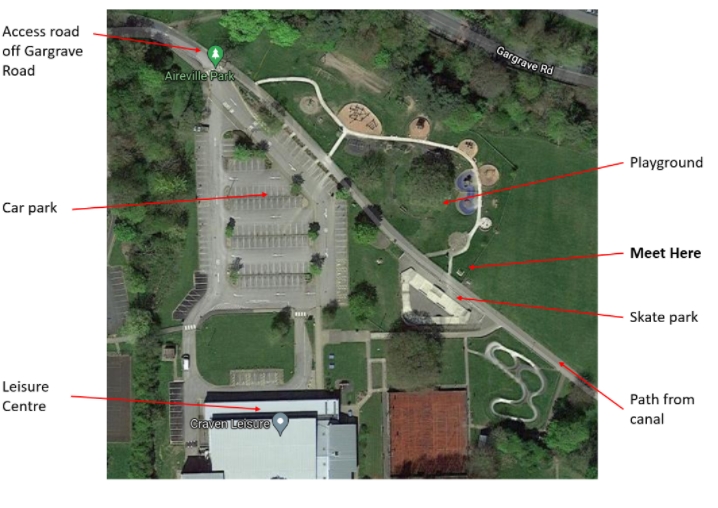 Here is the Summer 2022 Rota:
| | | | | | | | | | | |
| --- | --- | --- | --- | --- | --- | --- | --- | --- | --- | --- |
| Date | Jun 7 | Jun 9 | Jun 12 | Jun 14 | Jun 16 | Jun 21 | Jun 23 | Jun 26 | Jun 28 | Jun 30 |
| Day | Tue | Thur | Sun | Tue | Thur | Tue | Thur | Sun | Tue | Thur |
| Route | D | A | Mill. Way Relay | Intervals/B/ HDSRL Ilkley | C | D | HDSRL Skipton | Eccup 10 | A | B |
| | | | | | | | | | | |
| --- | --- | --- | --- | --- | --- | --- | --- | --- | --- | --- |
| Date | Jul 5 | Jul 7 | Jul 10 | Jul 12 | Jul 13 | Jul 14 | Jul 19 | Jul 21 | Jul 26 | Jul 28 |
| Day | Tue | Thur | Sun | Tue | Wed | Thur | Tue | Thur | Tue | Thur |
| Route | C | D | Townley Park 10k | A | HDSRL Otley | B | Intervals/C | D | A | B |
| | | | | | | | | | |
| --- | --- | --- | --- | --- | --- | --- | --- | --- | --- |
| Date | Aug 2 | Aug 4 | Aug 9 | Aug 11 | Aug 16 | Aug 18 | Aug 23 | Aug 25 | Aug 30 |
| Day | Tue | Thur | Tue | Thur | Tue | Thur | Tue | Thur | Tue |
| Route | C | Eshton Moor Fell Race/D | A | B | Intervals/C | D | A | B | C |
| | | | | | | | | | | |
| --- | --- | --- | --- | --- | --- | --- | --- | --- | --- | --- |
| Date | Sep 1 | Sep 6 | Sep 8 | Sep 13 | Sep 15 | Sep 18 | Sep 20 | Sep 22 | Sep 27 | Sep 29 |
| Day | Thur | Tue | Thur | Tue | Thur | Sun | Tue | Thur | Tue | Thur |
| Route | D | A | B | Intervals/C | D | Beck Busters 10k | A | B | C | D |
Summer 2022 Route Descriptions and Maps:
Route A Sharphaw –
Sharp Haw 'fork in the path' – Park top entrance, roundabout, Stirton, up Bog Lane to small car park, forestry road to fork in the path and back across field to Bog Lane and return via Stirton – Route
Sharp Haw 'clearing' – Park top entrance, roundabout, Stirton, up Bog Lane to small car park, forestry road doing the complete loop, back down Bog Lane and return via Stirton – Route
Route B Carleton –
Carleton fields & railway – Bottom park entrance, Canal to Sawley St, Ings Lane, paths across fields & Aire to top of Heslaker Lane, diagonally right across fields to railway line, right to Heslaker Lane, turn right back to Carleton, back across fields return via outward route – Route

Heslaker Loop – Park bottom entrance, Carleton New Rd, 2 sides of Carleton triangle (Pale Lane), through Carleton, Heslaker Lane, turn right twice back towards Skipton, join canal at Culvert Lane (just before tunnel under the canal), back to the park on the canal – Route
Route C Skipton Woods –
Skipton Woods & Hagg Farm – Bottom park entrance, canal, Skipton Woods, golf course, left up Brackenley Lance, right at main road, right down farm track to Hagg farm, paths to Embsay, down West Lane, through the quarry, down the Bailey, up Gargrave Rd – Route
Skipton Woods – Park bottom entrance, canal, Coach St, Skipton woods, golf course, right along Brackenley Lane, turn off right just before Embsay on footpath over to Skipton Rd, up to Manby Castle, through right side of quarry, down Bailey, up Gargrave Rd – Route
Skipton Woods – Park bottom entrance, canal, Coach St, Skipton woods, golf course, right down Brackenley Lane, Cavendish pub, track through left side of quarry, down the Bailey, up Gargrave Rd – Route
Route D Bradley –
Skipton Moor – Bottom park entrance, canal to Bay Horse pub, up Skipton Rd towards Bradley, left at high point on paths to High Bradley, ascent to trig point, descent to top of Shortbank Rd, return direct via canal – Route
High Bradley & Cawder – Bottom park entrance, canal to Bay Horse pub, up Skipton Rd towards Bradley, left at high point on paths to High Bradley, left across fields to Cawder & back along canal – Route
Here are links to the Tuesday & Thursday Winter routes:
Coaches