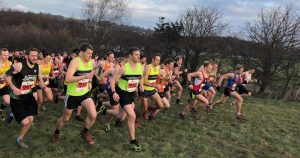 We hold two regular weekly training sessions on Tuesday and Thursday evenings; check out our 'Seniors' page for further information. We also have a 'Juniors' section where training takes place every Tuesday. We have qualified Running Coaches and Leaders who can help tailor a training or exercise regime to your specific needs.
Members are also welcome to join in the 'Wednesday Night Pub Run' and have the opportunity to join 'Skipton AC Members' Forum' on Facebook; a page to share experiences, learn about upcoming races and social events as well as general, good-humoured banter.
You are very welcome to come along and try our training sessions, meet some of us and see if Skipton AC is for you. Download a club membership application and view our privacy statements here.
Hope to see you soon!