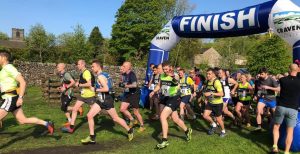 We meet in the foyer of Craven Leisure Centre on Tuesdays and Thursdays at 7pm where members can either choose interval training (Tuesdays only) or a local running route depending on your pace and preferred distance. Please see the SENIORS page for further information on routes and rotas. On Wednesday nights we meet at different venues in the local area for a 'social' run; an off-road route of usually 4-6 miles where everyone is welcome and we usually enjoy refreshments in the nearest hostelry afterwards!
Many Skipton AC members represent the club at local racing events as well as parkruns; we run a Club Championship and also a Handicap League where all members are encouraged to participate, whatever their ability.
On Tuesdays we also have junior training sessions with qualified coaches (all DBS checked) for children aged 8-17. Please see the JUNIORS page for more information.
Members are also welcome to join 'Skipton AC Members' Forum' on Facebook; a page to share experiences, learn about upcoming races and social events as well as general, good-humoured banter.
You are very welcome to come along and try out our training sessions, meet some of us and see if Skipton AC is for you.
Download a club membership application and view our privacy statements here.
Hope to see you soon!