RUNNERS' BLOGS

North Yorkshire Moors 100

Several Months ago I signed up to do the North Yorkshire Moors 100 mile ultra (it's actually 102 miles!) I can't remember if Prosecco was involved with this "bright Idea" or if I had been listening too much to Annmarie Bulcock and Steve Hall enthusing about how good the food is at the checkpoints.
I had to do a qualifier first and with the company and expertise of Steve and Annmarie we ran the Winter Poppyline 50 miler in February in a time of 12 hours. Since then we have trained a lot together and I have been very grateful to these two experienced runners for their support and ultra running tips.
Right, down to business. The Event.
It is organised annually by the LDWA and can be held in any part of the country so it was a great opportunity to take advantage of the fact that it was local. They had 300 volunteers for this event and 500 participants.
SAC were represented by the 3 of us, Tony Wimbush and Vee Ostojic who are all ultra runners/walkers.
I felt very relaxed as the event started and AM, Steve and I set off at a gallop to get well ahead of the walkers. We settled into a comfortable pace and chatted away.The Sun shone brightly and the temperature started to rise. We were all getting pretty hot. At the second checkpoint we re-filled our water bottles and ate a load of food. It was notably hotter when we left.
I was a tad envious at checkpoint (CP)6 when Tony Wimbush turned up looking as fresh as a daisy and he had started 2 hours after us!If you don't know Tony, he is 10 years older than me and is an amazing ultra runner. I did tell him off for catching us up.
Although the temperatures were very high there was a little light relief with a short thunderstorm.
About 30 miles in Steve started to struggle a bit in the heat despite taking sun safety precautions. He was wobbly and pale and we slowed the pace down. By the time we got to the Glaisdale checkpoint at 46 miles he looked really rough and laid down on the floor in a corner while AM and I loaded up with pasta,cake etc. We were sat there eating when we heard some quite spectacular noises coming from Steve's corner. I went to check him out to find that he was almost pebble dashing the area with vomit. Thankfully he managed to hit the washing up bowl that the volunteer got for him. All around him other competitors were trying to enjoy their food!!!!! It wasn't funny at the time but as I relayed the story to Steve today we couldn't help laughing. Everyone seemed to be pretending that there wasn't a man on the floor heaving his guts up although they soon departed the area! He was covered with a sleeping bag and we let him rest/sleep. He managed a bit of custard and after a good 2 hours he felt that he could continue with the event. In hindsight this was not a good idea as only a mile or so into the next leg he laid down on the stony track and shut his eyes. Also AM was feeling a bit ropey and had to sit down for a bit. It seemed to take us an age to get Steve to the next checkpoint at 54 miles, where he made the sensible decision to retire. He was understandably very upset as were we. He really struggles in the heat. Be proud that you got to 54 miles Steve as it was hard going.
Even more worrying was that AM and I would have to follow the route description! Steve was our navigation aid as we cannot read a map!
With bits of paper in our hands we left the checkpoint. Fortunately we had reccied the next bit so knew the route. Fyling hall CP (61.9 ml) was where we were allowed a bag drop. We were both having a problem with sore feet and blisters so it was a good opportunity to apply dressings and change socks/trail shoes. After a hearty bowl of porridge we were on our way again.The sea views of Whitby were beautiful.
When we found ourselves on unfamiliar territory we made a few minor mistakes but got back on track and arrived at Goathland. Even got to see a steam train.
We ran into Dalby forest and it is so easy to get lost in there with so many tracks. AM and I puzzled over which track to take but we spotted a man with what looked like a sat nav in his hand so decided to follow him and hoped he was doing the NY Moors event too. We followed him from a distance, occasionally having to run a bit faster as he kept moving out of site. Eventually we came upon him looking puzzled, he was lost!!!!! Resorting to our pile of paper work we worked out where we should be heading and ended up fast walking with Lee for the rest of the challenge. His garmin proved invaluable later on as it would have been really difficult to work out the route in the dark. We picked up another chap towards the end who was struggling with exhaustion and I then had an excuse to go a lot slower as my feet were so painful by this stage. AM got a second wind and turned into bomber Bulcock.
The last 12 miles were relentless. The tracks were very stoney which hurt everyones feet and they were straight and boring. But we did it.
After a bowl of hot food at the end we all slept in the school gym. Odd to see loads of bodies in bags on the floor.I was so tired I'd have slept anywhere
The LDWA events are so well organised. I ate 19 meals over 2 days and drank almost 8 litres of fluid en route. The scenery was lovely and every volunteer worked hard. This sort of event is not a race but an endurance challenge. It had its highs and lows and I'm very proud of my achievement. My feet are in a state and I have said I will never put myself through anything like this again. I'm also feeling very emotional, that could be due to only having 4 hours sleep since 5am on Saturday. I was woken this morning by Steve ruffling my hair and telling me I had been snoring! How embarrassing in-front of all those other people. The joys of sharing accommodation! Roll on Keswick. Not sure I'll be able to run by then but I'll enjoy the social.
Our Club has other ultra runners who keep a low profile. Andrew Ellwood it would be great to read about your many ultras, also Vanessa Ford does a good write up.
Sorry for the long report. It's hard fitting 102 miles into a short message.
Sue.

Wray 10k Road Race 22nd April 2017
Well yesterday was parkrunday so as usual I made my way to Skipton to setup and manned the carpark with Peter Wood, before heading down to run and a rather quick run it was in 19min 49's and 5th place, helped clear the course away while trying to keep up with Peter's 'chatting' and having a gentle cool down run, thanks Peter. Great to see Mel and Derek doing their 50th run together in unison and pacing Derek to his fastest time in quite a while, I seemed to think it was the other way round though!
Anyhow my thoughts then turned to Wray 10k in a couple of hours (1.15pm) and headed home to refuel and change into my other Skipton Athetic top, rumours are it shouldn't have an s on athletics but with the L missing who really cares. So onto Wray a small village full of scarecrows and we (me and my dad) parked in a field on the edge of the village greeted by a Wray 'local' in a very distinct German accent, still not sure what he way saying but we paid £2 and parked up, went and signed on in a nearby hall and made my way to find the start, 5k later still hadn't found it along with 100 other runs so went back to the car for drink and remove my Skipton athletics badged hoody. Then asked a marshal how to find the start and after a toilet break (great facilities) and 10 minutes walk, was on the start line with 5 or 6 other Skipton runners, quick chat with Mr Fothergill and Mr Gorman with ladies and no sign of Norman which the girls were all relieved about after he suggested he may only be wearing his Skipton hat! At the blow of a whistle off I went at a slow pace due to being blocked in at the middle pack and made my way towards the front at an increasing pace passing speedy Gorman, only to be greeted by an incline that I would describe as 'uphill', I hadn't seen the route profile so came as a shock to find it was a hilly undulating course, well 400ft hilly anyway. With my watch bleeping out splits I got the usual cry of 'are you running in bloody kilometres again', as my beeping was out of sync with the mile beeping runners. I maintained a steady pace and it was getting warm when I got to halfway and the water station, took a cup but couldn't drink anything so over the head it went to cool down and realised I still had my cap on to protect from the sun so the rest of me got a cold bath. The race was all tarmac with heat coming off it and the roads were still open which posed the odd hazard at times – mostly tractors. The last 5k was a mixture of slight incline then fast downhill which was fun which evened out into an undulating country road run, the downside being a pink inflatable castle that never seemed to get any closer no matter how quick you run to it, I now hate bouncy castles btw. Just as you passed the castle (nothing like Skipton's castle- it was pink) a slight rise, then dip over the river bridge then another incline and you see the corner of the village, I was fooled into thinking the finish was just round the corner but another 100m had to be run along the high street, by which time I had caught Scott from Barlick but 7 seconds was too much to make up by then and I finished a proud 12th in 41min 55's. Met up with my dad again who had been spectating and we cheered in fellow Skipton runners who all gave their best in the last 50 metres, Dave Gorman under 50mins and Mr Fothergill not far behind with the rest finishing shortly after. A cup of water at the finish and a really nice scarecrow 10k medal for the 146 runners who took part.This would make a good club championship race, cheap to enter (£9) entry on day and 1hr drive there.

Michael

Haworth Hobble race report. 11th March 2017.
It was an early start. Up at 5.15 for a hearty bowl of porridge before being picked up by Annmarie and Steve at 6.20.
We arrived at Haworth school and registered and met a few familiar faces- Tony and Andy. No sign of Peter but Annmarie thought she had seen him.
The race started on Main Street up the cobbled road. A slow start due to a lot of runners in a narrow street, 383 solo's and 65 pairs.
I was already breathless by the time we got off road and headed towards Top Withens. Bomber Bulcock and Hurricane Hall were flying along and I was starting to feel a little worried. Things improved once we hit the flagged path down towards Widdop Reservoir when Bomber Bulcock turned into Bambi Bulcock and Magnificent Marshall stormed past and galloped down the moor with Hurricane hall.
With restored confidence (for me) the three of us kept up a steady pace. Sampling the broken biscuits at the check points and refilling our water bottles, we soldiered on through lovely squishy mud and moorland paths. I'm sure the scenery was lovely but I was trying to keep focused on where my feet were going.
A section called Long causeway was pretty unpleasant for the feet as it was a lengthy stretch of tarmac road and my nice new inov8 mudclaws did not provide the cushioning required. It was a relief to get back into the mud.
At one checkpoint there were hotdogs on offer. No good for me so I ended up with a jam doughnut. It took me almost 2 miles to eat it as my mouth was like the bottom of a budgies cage and I had lost the power to masticate. I noticed Annmarie was struggling with her doughnut and hoped I wasn't covered in icing sugar like she was (sorry AM, I forgot to tell you that bit!).
At Mankinholes there was a supply of whisky for the runners. I spotted one rather pale male runner on the grass and 2 from KCAC knocking back their shots. Bomber, Hurricane and Magnificent declined the whisky and headed towards Stoodley pike. OMG! I should have had the whisky. We had already done 19 miles by this stage and the legs were a tad tired. It was a really steep climb to the monument, the thighs were screaming, the brain was cursing. Why is there always a photographer when you are not looking your best! Bomber and Hurricane seemed to get to the top with ease .
Thankfully it was a nice downhill section and we found ourselves in Heptonstall and on familiar territory as we picked up leg 4 of the Calderdale way relay route down to Midgehole. It got harder again as we then had to follow an uphill track for a long way. We did see some little lambs that we admired and cooed over (Not Steve!) but that could have been hysteria setting in. I was starting to feel unwell by mile 28 and grabbed a handful of nuts at the next checkpoint but couldn't eat them. Bomber was also struggling a bit and we both felt that we had very little left in the tank. Hurricane Hall on the other hand was annoyingly energetic and picked up the pace. I managed to keep up with him on the downhill sections but lost it on the flat/uphill.
AM and I battled on with true grit and determination and we finished hand in hand in a time of 6.44 (unofficial) which I was really pleased with. Good refreshments were supplied at the school and we caught up with Energetic Ellwod and whizzy Wimbush. I am in awe of Tony who ran it in under 6 hours and he is 10 years older than me. Unfortunately there was no sight or sound of Peter Wood so not sure how he did.
It is a hard and challenging race. I felt very nauseous the last 4 miles. I assume I got my eating wrong as I was well hydrated. Advice welcome on that.
Sue

Inskip HM: 22nd January 2017

Having managed another spell of months of stupid stupid zero exercise, I kickstarted running again last week. While many of you were WYWL'ing in Queensferry, I celebrated my 1 week return by taking part in the Inskip HM. It was a day of unfamiliar experiences for me and I settled on an analogy of my annual visit to McDonalds.

I arrived late as race HQ was rural and hard to find, a field with no feature of note other than c500 temporarily resident runners, this was the land that SatNav forgot. Lining up near the back of the group felt strange, the conversations around me were more jovial and homely ("I brought cakes for everyone afterwards") vs the psycho mutterings to be heard near the front ("I shall DESTROY the competition"). A few tummies at the back even matched my own current one pack which settled my out of place feeling! I had no idea if I had 13.1m in me, never mind what pace to run at. In recent years, I would typically have been confident rushing off and bedding down into something like 6.15pm but I knew that would now kill me before the first corner. I settled on "kind of medium jog so long as it feels easy" and "keep going as long as possible".

It was also strange to not hear the race instructions or start call (everyone around me was chatting instead of standing poised, finger on the Garmin...) so I just began running when the person in front of me moved. The course was flat and easy, small tarmac country roads with the occasional small village. After 2 miles I noticed that my "kind of medium jog" seemed to have settled on c7.30pm and so I thought, lets see how far we can get at this pace. I kept waiting for my legs to object but HOORAY this did not happen. At mile 11, I attempted a bit of mental maths and spotted sub 1h40m should be do-able so I sped up and managed to keep accelerating through the last 2 miles to finish in 1h37, strangely pleasing albeit my personal worst ever HM. I should say it is a very fast course (winner 1h10m...top 11 all under 1h15m...top 29 all under 1h20m).

It was a cosy finish with a free Lancashire Hotpot. I did notice the meat was somewhat red (horse or spam I imagine?). I liked the goody bag of medal, Aldi chocolate bar, water and very decent Thinsulate wooly hat which I am wearing with my suit today. My wife says I look like a gnome ...no respect. Much rather the hat though than yet another stupid TECHNICAL T-shirt.

Speaking of Horse meat, the McDonalds analogy. Well I really did expect to enjoy running with no training, no expectation, no time pressure. Run for pleasure I thought. OMG NO, I have a competitive spirit. Just like my annual McDonalds, running horribly under par tasted bad and I just can't get the taste out of my mouth. I have 7 weeks before Dent and I intend to train hard all the way (cue The A Team music). See y'all there.

Neil



Wadsworth Half Trog: 13th November 2016




I was tempted into running this by Jayne Butterworth who said it was a hard but good route to run. She was right.
Annmarie Bulcock came along too and I must say I felt a bit daunted at the thought of running with 2 speedy ladies. As luck would have it (you'll see why at the end of this report!) Jayne was unwell and chose not to run.
After a strict kit check and number collection we left the warmth of the pub to suss out the opposition. A few familiar faces from other clubs and just the 2 of us from SAC looking striking in our hi vis attire.
And then we were off. Jayne B didn't mention how tough the start was. 0.5 mile up a steep tarmac road then onto the Moor and the ascent continued. Our earlier decision about having a gentle trot was completely forgotten as our race faces appeared. I struggled to keep up with AM but caught her on the descents, especially as she sunk knee deep into a bog. Boy was it boggy. Everyone was sinking,slipping and sliding in the mud. I loved it. Checkpoint 2 was at the bottom of a really steep incline (thanks for the heads up on that bit paul Norman ). Apart from several miles of bogs there were also sections where the path disappeared. It's hard on the legs trying to battle with Heather, tufty moorland grass and bogs but AM and I soldiered on. We got led astray by 2 Nidderdale men at mile 7-8 and ended up taking a short cut (about 500m) by accident but it would not have made any difference to the results.
The last mile was a fab downhill blast and we crossed the finish line together. The marshal decided AM beat me as he said she had stuck her chest out!!!!!!!
Hot food and drinks were available in the pub afterwards and we listened to the results. I was just tucking into a lovely bowl of veggie chilli and chips when my name was called. I had won the V50F category. That's why it was lucky for me that Jayne was ill! Sorry Jayne, hope you get well soon. AM also got a spot prize.
I would recommend this race. Yes it is hard and muddy but well organised and marshaled and a good atmosphere.
Sue



Glen Ogle Ultra: 5th November 2016




On Saturday, I ran my fourth Ultra - The Glen Ogle Ultra. This was my 2nd this year (I did one in February), and this write up is especially for all of you who meet the following criteria;





I could never do the training needed for an Ultra,


I'm far too slow for an Ultra,


I've done a marathon, I don't think I could keep going for another 6 - 7 miles,


I'd love to do an Ultra but I don't know what to expect.


Because to do this Ultra AND knock 22 minutes off last year's time my training was not mental (16 - 30 miles per week, 3 - 4 days of running, with 1 double run day) and I targeted an average pace of only 12min/mile on the day. Easy? Well, I've completed 4 off road hilly marathons and a couple of 23 milers in the past 18 months so I know how it feels to be going for 6 - 8 hours and how to mentally adjust during the miles, and that's as important as the training. As is taking it slowly....
Well here's a run down of my most recent, and probably best, Ultra experience.
The Start
In Killin, a lovely highland village with 3 bars serving beer (including Timothy Taylors), lots of good accommodation and lots of walking for the non running supporters.
The Route
32.4 miles with 2600ft of ascent, good tracks, almost impossible to get lost, 4 Check Points with a drop bag at each. Out, round a bit and then back along some of the same route. Very scenic, snow capped mountain views, lots of autumnal trees, no wildlife hazards (e.g. cows), Rob Roy's Grave.
The Race
Run by BAM, they run a series of Ultras in Scotland and their runs are well organised, friendly, value for money, and a Ceilidh is organised for the evening of Glen Ogle.
The Race Plan
12 min/mile average pace, no walking allowed, except on the really steep bits, minimal stopping at Check Points.
Mile 0
A very cold start to the day as we were piped out of the park by a piper, all 400 or so of us. There were people in shorts (?), of course.
Miles 1 - 5
Lovely, just warming up through gentle forestry (compared to Sharphaw firetracks) for a couple of hundred metres, mostly runable and the snow topped mountains could be seen against a blue sky! Well, lovely except for the severe abdominal cramps and multiple toilet stops which plagued me for the first 12 miles (this isn't necessarily normal, so don't be put off).
Check Point 1
Pain Au Chocolate time, no stopping, just grab the food and nibble whilst running.
Miles 6 - 9
A gentle and quick jog (10min/miles) along a high disused railway line with a view into and down the valley, as well as overy a loch. There's also a lovely viaduct to run over where the wind whistling through it made very spooky noises.
Miles 10 - 11
A steep drop down to a woodland track by the road, and the passing of the lead runner going back the other way (a finish time of 3hrs 29mins)!!! Nice and easy running, with some gentle undulations.
Check Point 2
A proper drop bag at this one - chocolate milk, sausage roll, dairy milk and Capri Sun. Enough to keep me going for the next 12 miles.... Again only stopping for long enough to drink the chocolate milk and everything else to be eaten/drunk on the go.
Miles 12 - 16
The route takes an undulating single track road around to Balquhidder and to Strathyre. It's a quiet single track road with some really pretty natural woodland.
The quads are freezing, I can feel they are sore but can't really feel them properly. However, the stomach cramps have gone, so happy, happy times.
The Cow Bell
At Strathyre it's the halfway cow bell, and a lollipop man dressed in a blue morph suit (as the Saltaire Flag) to assist crossing of the main road. I know what you're thinking - a halfway cow bell?!
Miles 17 - 18
My watch beeps at every mile, those beeps are now used to let me know that I'm passed half way and every mile is a massive win. Though this section is a 250m climb up into forestry land. It's hard work, and there's a freezing headwind.
Miles 19 - 21
Downhill through the woods for a long way, in this stretch. It's this change in incline and the type of incline that hurts my quads. There's lots of trees and there might be a view but it will be nice when the hill is over. A big positive though - less than a half marathon to go!! Yes, nearly there! I did actually think that.
Miles 22 - 23
Out of the woods, but the downhill is still there to torment and there are spectators . I'm now quite hungry and could do with that chocolate milkshake I know is waiting at Check Point 3. I join the route I came out on and can hear the Check Point..
Check Point 3
I've lost the ability to eat solids but the milkshake is lovely and I don't need to change into the dry socks I put in the bag (bonus). I look at my time for the first time in the whole run and realise I'm on track at 4hrs 40 mins. I have a vague attempt to eat some sausage roll meat as I set off again.
Miles 24 - 25
The start of the psychologically 'dark' miles. I switch to the 'shuffle' which is the pace that doesn't surprise my quads and keeps them doing something constant, which seems to keep the pain at bay. Although the route now climbs back up 100m or so to the railway path, and what a horrendous zig zagging climb it is. There is a girl walking up at the same pace as me but I'm not physically able to speak to her.
Miles 26 - 28
Shuffle. Just shuffle, and keep shuffling forward that's all I can say to myself, along with 'walking not allowed', despite the gentle incline and freezing headwind. I only need to maintain 12:30 minute miles for the next 6 miles and I've hit my target. I could probably walk a bit and run a bit and still beat last year, but walking isn't allowed so man up. Do not walk. Do not walk.
Yep, at about this point I start to lose a bit of a grip on life and my surroundings, probably due to some severe nutrient depletion.
Oh, there's the viaduct, and a wind tunnel, and the photographer!!!
Check Point 4
I just need a cup of tea, but the table piled high with left over food has no such delight. A kind marshal does open a bottle of coke for me though, which provides a bit of a caffeine rush. I've lost the ability to take in solids but I take my Drake and Macefields pork pie with me anyway, just incase.
Miles 29 - 31.5
Into the Killin woods and a steep downhill. Apart from the quad pain from going downhill things are improving, I don't feel like I'm hallucinating anymore and there's so few miles left. Once the terrible (yes, believe me, at this point downhill is not your friend) downhill is over, and there are some inclines and flat bits, each mile beep is a beautiful noise. There isn't anything to see on these final miles, as everything is hidden by the trees, but all energy is concentrated on maintaining the shuffle anyway.
31.5 - The End
At 31.5 I passed a gent limping along very slowly, he asked the mileage and when he realised how close the finish was he cheerily thanked me and sprinted off! His reaction kept me entertained for the final 10 minutes. Just after he'd gone I turned out of the woods and into Killin, just maintaining the shuffle.
I passed people congratulating me, and did the park circuit to the finish line knowing that I'd knocked 22 minutes off my previous year's time, and actually felt better than the previous year.
Unfortunately my support missed my finish by 10 minutes, but this year I remembered to collect my goodie bag (cider, iron bru, Tunnocks, some biscuity thing, medal, window sticker).
The ability to eat didn't return until about 8pm, after several pints of beer, and the only thing sore was my quads. No blisters, toe nails remained intact and no chaffing - I've no idea what the secret to that is.
I stuck to the plan and my average moving pace was 11 min 50s/mile; I only stopped for 15 minutes in total (half of which was unplanned and enforced!), a success! I also know that without the pain and issues in the first 12 miles I would have easily seen 30 minutes off the previous year.
I'm already planning on a possible sub 6hr next year (I'll need to up my training distance for that) and maybe I've encouraged a few others to just give an Ultra a go (Haworth Hobble?)?? The really hard bit is only a small part of an amazing day out.
Disclaimer - This Ultra has just the right mix of up, down and flat with excellent surfaces. I can't promise a similar experience in the Dales/Pennines.
Vanessa
York Marathon and 10 mile races: 9th October 2016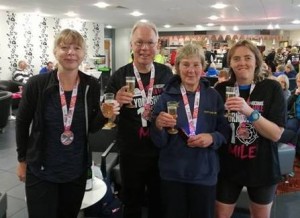 Inevitably, as I met Chris Rose and Ruth Elkington at 5:30 outside Skipton's Carnegie Library, the question we asked ourselves was, "Why are we doing this?!" What were we doing? Chris and Ruth were running the York marathon and I the 10 mile route. They had some ghosts to lay to rest over the marathon distance and York in particular; especially the latter for Chris. For me, it was to be my longest run since the Edinburgh half in 2012. Whilst Chris and Ruth were the only Skipton AC runners doing the marathon, also doing the 10 were Christine Buckley and Sue O'Rorke who like me have had slightly challenged running careers over the last few years (if they will forgive me for this!). Also running was the amazing Lauren Guest who has blossomed from first steps in parkrun at the beginning of 2015 to be a runner who has subsequently taken on several 10k races, now York 10 and next week her first half marathon in Manchester!

Any road up, it was a cool autumn morning and a fab dawn was dawning as we arrived at the park and ride at Elvington airfield. There were no queues for the portaloos and no queues for the buses. Well we were there before 7:00 so this was no great surprise! The transport into York Uni provided a smooth transfer and once on site we found a café which had ready access to nice loos in the maths department. Chris, Ruth and I took it in turns to go to the loo before taking it in turns again. The marathon stalwarts then dropped their bags off at the bag drop off tent and went off to the marathon start line for the 9:30 lift off. I went back to the café and went to the maths loo a couple more times before the 10 mile start at 10:15. Fortunately, there were some handy portaloos near the start. I never saw Christine, Sue or Lauren before the start. Maybe they were using different loos or have bigger bladders. Who knows?!

Then there was the happy clappy warm up. What's that about?!!? The first few miles of the race are the warm up, surely?! Some TV announcer person asked if Harry Gration was around to do some announcements but I think he was stuck in a portaloo. Fortunately, Hannah Cockroft was on hand and started the event whilst waving her gold xmas tree decoration which she picked up cheap on a Rio market.

The first mile or two of the 10 was pretty stuttery as there were lots of other people who were Sunday morning jogging around York city centre. We ran past Betty's and it was a great temptation to pop in for a coffee and a wee. After a few miles we headed out of town and I was looking forward to seeing Rick Small who had cycled over from Skipton and was to be standing at the 5 mile mark to see both marathon and 10 mile runners through (this was the course split point). After shouting out encouragement (well it was probably some kind of expletive in relief that we had finally gone past!) he was then riding off to see Chris and Ruth elsewhere on the route. At that point, having done 5 miles of 10, this meant we were half way. I thought of Julian and doing a negative split but then put such foolish thoughts to the back of my mind and concentrated on just keeping life and soul together and hanging on to get back to York Uni.

Eventually, the last stretch stretched out in front of me and was the hill in the last mile which our previous marathon runners had warned about. Now this was a York version of a hill and in reality is no more precipitous than Gargrave Road but under the circumstances (lack of ability, fitness, and performance enhancing drugs) was about 8/10 in the unwelcome stakes. What was more bizarre was the downhill after cresting the col in that I was expecting to just relax and coast down the hill, gradually building speed in front of the cheering crowds who were lining the home straight to then pick my legs up, pump my arms and position my chest ready to breast the tape. Nah. Legs like Dewsbury mud.

Over the line and into the arms of the awaiting press with a microphone thrust in front of me and probing questions about whether I was pleased, disappointed or what? Well truth to tell, I was just really glad to stop 'running' and to see Christine who had finished a bit in front and then there was Sue a couple of minutes back and there was Lauren and we were all giddy with relief that we were in the right number of pieces without conspicuous injury. Lauren's mum & dad were there to greet her and Joe was fighting with a security guard for the right to ask for Lauren's hand in marriage!

Times? Well done us!!! All we wanted to do was run 10 miles unscathed and we all succeeded in turning in times better than we expected. The chip times were Christine in 1:33, me in 1:35, Sue in 1:39 and Lauren in 1:44. Given our recent histories, I think we should dine out on this and have second helpings!!

Sue and Lauren wended their way to the transport and Christine and I went back to the café. I thought I needed a wee but couldn't. I drank a large coffee, two bottles of water and an isotonic drink and had a wee after about half an hour. All back in working order!!

Christine had an app (or was it a nap?) and was able to track Chris and Ruth's progress and we timed our appearance alongside the marathon finishing straight to see them storming along towards the line. We shouted out and did low fives (high ones being too much like hard work) and found them after a few minutes at the baggage tents. We then made our way back to café and opened the champagne given to Chris by chief hydration supporter, Tina Tierney. Chris and Ruth did fab times in a dead heat at 4:20! Next year 4:15? (Ouch! What was that slap for?!?!)

The coaches back to the airfield provided an excellent service and we saw car racing on the runway but Christine couldn't be tempted to take part in her van!

Both the marathon and 10 are very well organised and enthusiastically supported by the good folk of York and surrounding villages and there are bands at various points on the course. It's well worth putting in the diary for next year!'

Paul